West Palm Beach Flood/Water Damage Lawyer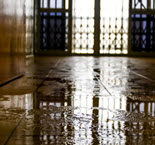 Florida gets a lot of rain. In fact, West Palm Beach receives 62.4 inches of precipitation every year, according to U.S. Climate Data. With all that rain, including the extra precipitation that tropical storms bring in in the form of rain and storm surge, West Palm Beach is a prime location for flood and water damage. Water damage to the interior of a home can be devastating, requiring new flooring, appliances, walls, roof, and even an entirely new structure. If the water damage is bad enough, the building may no longer be inhabitable. Even when all of the water has been removed, the new carpets or wood floor put back in place, and the appliances restored, there may be mold and toxic substances still thriving within your home, causing illnesses to your family or continuing the damage to the structure's integrity. To make matters worse, standard insurance policies often do not cover flood damage, and insurers will deny their customers coverage in flooding scenarios. Insurers often deny coverage even to homeowners who were not victim to a flood, but to a broken pipe or a damaged roof that caused long term leaking and permanent wood damage. Even homeowners who purchased insurance plans with a flood/water/mold policy are routinely denied or offered insufficient funds to make necessary repairs by their insurer. That may mean that you and your family are left with tens of thousands or even hundreds of thousands of dollars in repairs and possible use of your home, meaning hotel and restaurant bills.
Average Claim Cost of Flooding
The average flood claim is $30,000, according to the National Flood Insurance Program and reported by Bankrate. Regular policies do not cover flood damage. Supplemental coverage must be purchased to cover you in the event of flooding. These policies can be purchased through the federal National Flood Insurance Program or through a few other private insurers. According to a poll conducted by the Insurance Information Institute, only 12 percent of homeowners in flood-prone areas purchase flood insurance.
Definition of a Flood
A flood, as defined by Florida statute 627.715, is a temporary inundation of water, either partial or complete, of two or more acres of land that is usually dry, which involves at least two or more properties. The inundation, if defined as a flood, must be caused by:
An overflow of inland or tidal waters, such as a storm surge caused during a hurricane;
Unusual and rapid accumulation or runoff of surface waters from rain water or any other source;
Mudflow; or
The collapse of land near a body of water that was caused by erosion or the undermining of water or currents that exceeded anticipated cyclical levels.
Call the Experienced Lawyers of Celeste Law Firm Today
If your home has suffered water damage or flood damage and your insurance company is refusing to pay for damage that your policy demands, we urge you to take legal action at once to force them into action. Give the West Palm Beach attorneys of Celeste Law Firm a call today at 561-478-2447.
Resources:
usclimatedata.com/climate/west-palm-beach/florida/united-states/usfl0512
iii.org/fact-statistic/flood-insurance
bankrate.com/finance/insurance/flood-insurance-1.aspx