Sidewalk Injuries Caused by Crumbling Infrastructure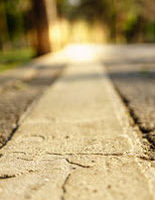 It is no secret that some of West Palm Beach's roads, sidewalks, and bike lanes have seen better days. Potholes, cracks, damaged road signs, and poorly designed on and off ramps can all have devastating effects on all categories of road users. But what happens if you suffer an injury from a damaged sidewalk or a raised iron grate in the middle of the bike lane? In some situations, filing a personal injury lawsuit against the city may be an option.
Florida's Roads Get a C Grade by the American Society of Civil Engineers
The American Society of Civil Engineers gave the state of Florida a C in terms of road infrastructure in 2016. While the pavement conditions of Florida's interstate system were deemed to be in good condition, the safety of pedestrians is at rock bottom. Indeed, 762 vulnerable road users (bicyclists and pedestrians) were killed in 2015. In fact, all four of the most dangerous metropolitan areas in the country are in Florida: Orlando, Tampa, Jacksonville, and Miami. Little to no adequate infrastructure exists in Florida for cyclists and pedestrians, compared to other areas of the country. Sidewalks in many areas are narrow and lack lighted crosswalks, wide surface streets make crossings dangerous, and bike lanes are few and far between. However, when a bicyclist or pedestrian is injured or killed by an automobile, the driver, if found negligent, will be held financially accountable for the damages, not the city. When the infrastructure is found to have caused the trip and fall or crash, the injured victim may seek financial compensation from the city. Potholes, large cracks, debris, and ajar or misplaced metal drainage grates are serious hazards. Other potential hazards that the city may be responsible for include downed power lines, tree limbs, road construction that is not cordoned off properly or that forces bike or pedestrian traffic into the street without warning, and storm-caused damage or debris.
California Cyclist Receives $4.85 Million Settlement, Injuries Caused by Damaged Sidewalk
A San Diego, California cyclist recently received a $4.85 million settlement from the city after he was thrown from his bike while riding on the sidewalk. The sidewalk had been pushed upwards by a tree root, causing the man to launch into the air and tumble and slide 38 feet, landing on his head. He suffered such severe injuries (broken teeth, a stroke, spinal cord injuries) and spent a month in the hospital, two months in rehab, and home health aides thereafter, according to Bicycling.com. While this type of settlement is not common, if your injuries are similar in nature, you may be able to recover a substantial settlement or jury verdict.
Injured From a Cracked Sidewalk or Pothole? Contact Us Today
Damaged sidewalks and poorly managed bike lanes are serious liabilities for any city. If you were injured due to the city of West Palm Beach's negligence in maintaining vulnerable road user infrastructure, call the Celeste Law Firm today at 561-478-2447.
Resources:
bicycling.com/culture/crashes/this-cyclist-received-a-huge-settlement-after-a-sidewalk-crash
infrastructurereportcard.org/wp-content/uploads/2013/02/ASCE-Report-Card-FL-7.14.16.pdf