Indoor Trampoline Parks Can Cause Serious Injuries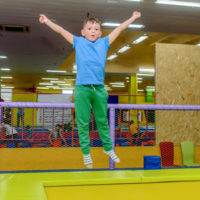 One of the newest trends in fun and recreation is the indoor trampoline park. Inspired by shows like American Ninja Warrior and fueled in popularity by surging interest in health and fitness, trampoline parks are sprouting up everywhere. Sadly, they also can lead to catastrophic injuries.
What are Trampoline Parks?
Trampoline parks are indoor recreational areas where enormous trampolines span the length of the floor. The walls often have trampolines as well, or other obstacles for climbing. Some parks include climbing facilities, or sports-related amenities (such as basketball hoops) that are combined with the jumping.
The parks are for all ages, including adults. Because of their wide appeal, they have grown in popularity and are now a billion dollar industry.
Report Discusses Dangers of Parks
A recent report highlights the danger of these parks. Many injuries are caused by the wide variety of body types who use the trampoline simultaneously. For example, a large adult bouncing can cause a strong rebound effect on a smaller child, causing serious injuries.
Many facilities don't have fully padded surrounding walls, and the trampoline surfaces are often thin, leading to exposure to hard wires or cables underneath if someone falls on them when the trampoline is being forced down by the weight of an adjacent jumper.
The sheer size of the facilities and the number of people using the trampolines can make it difficult for facility employees to monitor dangerous activities.
Serious Lack of Oversight
There is no federal government oversight of these parks, no agency to police them, and no federal regulations that govern them. Only about seven states have laws that govern these facilities.
There is often no requirement for regular inspections of these properties. There may be no requirement that a facility monitor parkgoers the way a lifeguard would monitor a pool. There are no regulations that prohibit kids and adults of different sizes and weights from simultaneously jumping.
Contracts Favor the Facilities
Further protecting these parks are their own contracts, which often require attendees to sign exculpatory "hold harmless agreements." Although these clauses sometimes can be defeated when used as a defense, in many cases, they can prevent someone from suing for their injuries.
When cases against parks do settle, the settlement agreements often contain confidentiality clauses.
This makes a full accounting of injuries very difficult, but most experts agree that whatever injuries happen at these parks can be catastrophic. Paralysis, open fractures, brain bleeds, and crush injuries may occur.
Have you been injured by the poor maintenance of a business, or of a condition on a business premises? Contact the West Palm Beach personal injury attorneys at the Celeste Law Firm today to discuss compensation for your injuries.
Resources:
local10.com/news/national/deaths-injuries-at-trampoline-parks-jump-to-dangerous-levels
cbsnews.com/news/trampoline-parks-rising-in-popularity-expert-warns-of-catastrophic-injuries/
https://celestelawfirm.com/compensation-for-the-spouse-of-a-victim-of-negligence/