How Long Does My Homeowners' Insurance Company Have to Evaluate my Claim?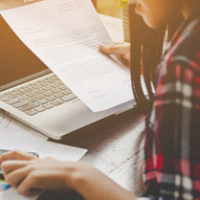 Most homeowners' insurance policies require immediate notice to the insurance company of damage to your home so that the insurance company may determine whether the damage is a covered-loss and to prevent further damage.
That leads to one of the most common questions we hear from clients with homeowners' insurance problems: How long does the insurance company actually have to respond to my claim?
Florida law requires that an insurance company respond to your claim within 14 days of your providing notice.
We've previously written about proof of loss forms that must be submitted when making claims. Once you submit one, the insurance company has ten days to respond. The insurance company doesn't have to agree with your assessment of damages; it can disagree with you, in which case you have rights to fight the insurance company about what was lost and the value of any losses—which of course, practically could go far beyond that initial 10-day window.
The insurance company has up to 90 days following its investigation to notify you of its findings—that is, to tell you that your claim is accepted or denied, in part or in full.
Bad Faith
If the insurance company tries to play games with you with regard to these timelines, you may have a bad faith claim against it, which would entitle you to damages, possibly even damages that exceed the policy limits.
So, for example, some insurance companies will wait until the 89th day and then send a denial letter with no specifics about why you were denied. Others will delay responding to proof of loss claims or delay in providing a response to a claim, for no valid reason—for example, continuing to investigate something that clearly doesn't need further investigation, losing paperwork you send them, doing repeated and repetitive inspections, etc.
Many hope to "wear you down," and make the process so onerous and long that you eventually settle for whatever they offer. This is bad faith and illegal in Florida.
If your homeowners' insurance company is dragging its feet on your insurance claim contact the Celeste Law Firm in West Palm Beach today for a consultation about helping you fight your insurance company.
Resource:
leg.state.fl.us/Statutes/index.cfm?App_mode=Display_Statute&Search_String=&URL=0600-0699/0627/Sections/0627.7142.html