Wrongful Death and Personal Injury Pedestrian Collisions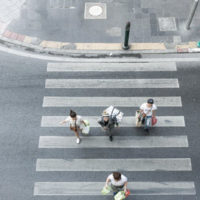 In no other state is it more dangerous to cross the street than Florida. Recently, a woman was killed in Okaloosa County while trying to cross the road when she was struck by a car, according to NWF Daily News. It is already the third pedestrian fatality of 2017 in the county. The body of a woman was found at the side of the road in Lawtey after a fatal hit and run, as reported by First Coast News. And, also just recently, a male pedestrian was struck down by a West Palm Beach motor vehicle that fled the scene, according to Fox 29 News.
Why is Florida so Dangerous for Pedestrians?
Florida is at a 10-year high for pedestrian fatalities, and South Florida, including West Palm Beach, holds the 11th most dangerous metropolitan area in the nation for pedestrians, according to a walkable city organization called Smart Growth America in their report Dangerous by Design, as reported by the Miami Herald. Street design is a major contributor to the problem, with most traffic infrastructure in the area working to increase the speed of motor vehicles, while pedestrians and other forms of transportation are forgotten. Some of the people most affected by this flawed societal design are older adults over the age of 65, who spend more time walking than other groups and are simply less agile and less able to jump out of the way of a distracted, speeding driver. The other negatively impacted group is people of color, who account for 46.1 percent of pedestrian fatalities because economic reasons force them to walk, ride bikes, and use modes of transportation other than cars. The report went on to say that, "So long as streets are built to prioritize high speeds at the cost of pedestrian safety, this will remain a problem. And as the nation's population grows older on the whole, and as we become more diverse both racially and economically, the need for these safety improvements will only become more dire in years to come."
The Driver will still be Held Responsible
Despite the inherent flaws in our transportation system, which does not consider the safety of pedestrians, if you were hit by a car, the driver will be held accountable so long as it can be proven that they were driving carelessly, recklessly, or were otherwise disobeying traffic laws. Some of the most common scenarios in which pedestrians are struck by drivers include:
Driver drifts off into the shoulder of the road or sidewalk and strikes a pedestrian. The cause of the drift could be intoxication, cell phone use, falling asleep, or another distraction.
Driver hits pedestrian in crosswalk because the driver is distracted or driving aggressively; or
Driver makes a left or right hand turn into a parking lot or driveway and strikes a pedestrian on the sidewalk.
Contact a West Palm Beach Lawyer
If you were hit by a motor vehicle as a pedestrian, we understand that the incredibly emotional and physical trauma that you have sustained means that dealing with the other party's insurance company or lawyer is the last thing on your mind. We provide complete legal assistance to ensure that you can take the time you need to heal, while we pursue financial compensation. Call the Celeste Law Firm today at 561-478-2447 for a consultation in West Palm Beach.
Resources:
nwfdailynews.com/news/20170607/louisiana-woman-identified-as-pedestrian-fatality-in-destin
firstcoastnews.com/traffic/pedestrian-hit-killed-on-us-301-early-friday-morning/443204322
wflx.com/story/35537552/pedestrian-killed-in-hit-and-run-crash
miamiherald.com/news/local/article125588259.html