Pedestrians Blamed for Getting Hit Crossing the Street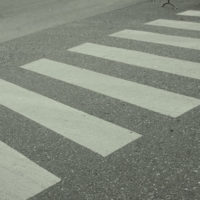 In Orange County, the Florida Highway Patrol (FHP) investigated 47 pedestrian fatalities in 2017, as reported by Spectrum News 13. The majority of these fatal pedestrian collisions were, under Florida law, partially the fault of the pedestrian, says Lieutenant Kim Montes of the FHP, the reason being that most occurred outside of crosswalks. When a pedestrian walks across a street not in a designated crosswalk, a jury may ascribe partial negligence to him even if the driver should have seen him, was speeding, or was intoxicated. Unfortunately, when the police investigate pedestrian collisions, they sometimes lean in favor of the driver, who may give a misleading or completely false statement while the pedestrian is in the hospital.
Crosswalks are Dangerous and Inconvenient, So Pedestrians Cross Without Them
The fact is that our streets here in Palm Beach County, just like in Orange County, are not designed with pedestrians in mind. Palm Beach County ranked third in the state for pedestrian crashes and injuries, according to a Palm Beach MPO study. Pedestrians are obligated by law to only cross in crosswalks, which means that they often have to go way out of their way to cross the street–something that many people will avoid if they believe they can make it to a center median, stop and wait for the other lane to clear, then continue on. Furthermore, crosswalks are hardly safe anymore due to the prevalence of drivers who use cell phones at stop lights, get distracted when the light turns green, and make a right turn without looking to see if the crosswalk is clear. In any scenario where a pedestrian crosses the street not within a crosswalk, both the driver and pedestrian may be ascribed a percentage of negligence.
What Was the Driver Doing?
If you were hit by a car outside of a crosswalk and the official accident report made by the police holds you 100% to blame, do not give up hope. You may still be able to win a personal injury case if you can prove that the driver was negligent in some way. The following questions need to be answered:
Was the driver intoxicated?
Was the driver looking down at his phone?
Was the driver speeding?
Did the driver see you and decide to give you a scare, only to hit you instead?
Was the driver doing something reckless?
Call an Attorney for Help Proving Your Case
Because it can be so difficult for pedestrians to be heard over the inaccurate testimony of the driver that hit them and the bias that the legal system has against pedestrians, it is all the more important to work closely with an attorney who has experience winning pedestrian collision cases. Call the West Palm Beach Celeste Law Firm today for help.
Resources:
mynews13.com/fl/orlando/news/2018/4/9/is_pedestrian_safety
palmbeachtpa.org/static/sitefiles/Plans_and_Resources/Ped_Bike_Safety_Study.pdf