OSHA Investigations Following Workplace Fatalities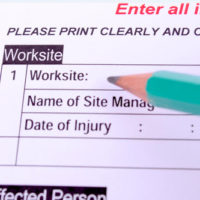 An employee of a plumbing company was working to repair a broken storm sewer, which had caused a minor sinkhole north of Boynton Park, when he was killed by an explosion, as reported by The Palm Beach Post. Water from a nearby lake was seeping into an eight by three foot sinkhole surrounding the pipe, which had been created by the damaged storm drain. The victim and his three coworkers attempted to plug the damaged drain, so the lakewater would not be able to get in, with an 18-inch air bag. The crew had been using a pump to suck the water out of the drain but the pump was unable to keep up with the water coming in from the lake. According to the owner of the plumbing company, the only way to plug something that is underwater is to use an airbag, but in a "freak accident," the airbag exploded and killed the 27-year-old employee.
Incident Vs. Accident
The Occupational Safety and Health Administration (OSHA), is investigating this incident because it involved a fatality.  The victim was part of the company's four-year apprenticeship program, during which he was taking two night classes per week in his field and had just been promoted to plumber with his own truck He was, by no means, a novice to the trade. It is OSHA's standard operating procedure to investigate fatalities in any workplace accident. In fact, OSHA no longer uses the term "accident," because according to OSHA an accident "suggests an event that was random, and could not have been prevented. Since nearly all worksite fatalities, injuries, and illnesses are preventable, OSHA suggests using the term "incident."
Searching for Wrongdoing
After every fatality or catastrophe (one or more employee hospitalizations), an OSHA investigation looks at the events leading up to the incident and what may have been a contributing factor. Common questions asked include:
Were all procedures and safety rules followed, and if not, why not?
Was the incident influenced by production pressure, and if so, why was production allowed to jeopardize safety?
Was employee safety training inadequate or out of date, and if so, why?
In cases of egregious wrongdoing on behalf of the employer, the employee not only may receive workers' compensation benefits but also file a lawsuit against the employer. In wrongful death cases, the victim's family could potentially file a wrongful death lawsuit and collect damages for pain and suffering, loss of a provider, loss of consortium, and more; however, it is rare that the victim or the victim's family be permitted to file a lawsuit if the injury or death occurred on the job. Typically, in that scenario, workers' compensation is the exclusive remedy.
Call Celeste Law Firm Today
The West Palm Beach workers' compensation and personal injury attorneys of the Celeste Law Firm are here to help you in your time of need. Whether you suffered an injury on the job or lost a loved one, you deserve worker's compensation benefits and possibly more if the employer's actions were egregiously negligent.
Resources:
palmbeachpost.com/news/local/freak-air-bag-rupture-kills-man-working-sewer-line-west-boynton/XK59CVrDop9xdYTCPJeaTP/
osha.gov/dcsp/products/topics/incidentinvestigation/