Occupational Welding Injuries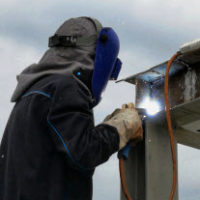 Welding is a trade that requires intense training and many years of mastery. Even then, it is a dangerous job to undertake because of the immense heat and pressure that is required to fasten two pieces of metal or thermoplastics together. According to Industrial Safety and Hygiene News, one out of every 250 construction workers will die from welding injuries over a lifetime of working.  If you have been injured during a welding project at work, you need to contact a West Palm Beach lawyer who can help you through the workers' compensation claim process.
Welding Injuries 
Over half a million welders are at risk for serious injury every year on the job, according to the Occupational Safety and Health Administration (OSHA). There are several types of welding and the injuries with vary depending on the type of welding used. For instance, brazing uses metal that is liquefied at temperatures over 800 degrees Fahrenheit, which could lead to severe burns. Other common acute injuries from welding include the following:
Electrical Shock – This can lead a variety of injuries such as broken bones, seizures, lung failure, cardiac arrest, and even death. Even a small electrical shock that doesn't show immediate symptoms could have caused undetected internal damage that should be evaluated by a doctor.
Manganism – Also known as Welders' Parkinson's Disease. According to the National Parkinson Foundation, welders have a higher risk of developing parkinsonism and associated neurological health effects;
Falls – Welders often work up high, on scaffolding, or on uneven footings. Whether you fall from a height or suffer from injuries caused by a fall to the same level, workers' compensation will cover your medical costs;
Long Term Exposure – Some injuries will appear only after a person has been welding for years. Exposure to ultraviolet radiation, infrared radiation, or intense light can all lead to untreatable eye damage. In fact, 5.6 percent of all construction worker injuries are flash burns to the eyes. Hearing damage is another common long term injury that welders suffer from, as a loud work environment can cause micro damage to the ears over a period of months or decades; and
Unsafe or Hazardous Work Environment – Simply the unsafe working conditions, such as high scaffolding as mentioned earlier, or standing underneath heavy equipment, can lead to welder getting injured. Tools and construction materials may fall, other machinery poses a risk, and motor vehicles transporting people, rock, or steel beams all present a hazard to a loud, confusing, and busy work environment; and
Asphyxiation and Explosions – Other types of injuries that pose a particular risk to welders include asphyxiation and explosions.
Please Reach Out To A Competent Workers' Compensation Attorney Immediately If You Were Injured At Work
We strongly encourage you to contact an attorney at once if you were injured on the job as a welder or construction worker who suffered a welding injury. The compassionate and professional West Palm Beach attorneys of the Celeste Law Firm will aggressively pursue the workers' compensation that you deserve. Do not hesitate to call us today at 561-478-2447 to schedule a free initial consultation with an experienced West Palm Beach lawyer.
Resources:
ishn.com/articles/103002-what-you-should-know-about-welding-accidents
osha.gov/archive/oshinfo/priorities/welding.html