Motorcycle Safety Should be Common Sense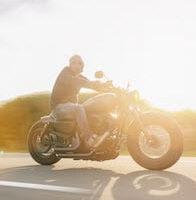 Safety Laws for Motorcyclists
As much a hobby and recreation as it is just transportation, motorcycles are popular in South Florida; helmets are not.
Helmet laws are controversial. Since 2000, anyone age 21 or older is not required to use a helmet while riding a motorcycle, yet anyone, not matter what age, riding a motorcycle is required to use a helmet. Go figure.
Almost every expert recommends the use of helmets by motorcyclists. According to the National Highway Traffic Safety Administration, riders who do not use a helmet are 40% more likely to suffer a fatal head injury than those wearing a helmet.
The law also requires motorcycles to have daytime running headlights. Some cycles even have devices that will intermittently dim and raise the lighting level to make motorcycles more obvious to other drivers on the road.
Who is At Fault for Motorcycle Accidents? 
A study in 2013 revealed that car drivers are at fault over half of the time in accidents that involve motorcyclists and cars. But the study also found that there was an alarmingly high rate of accidents that just involved motorcyclists, and that half of motorcycling accidents that involved death or serious bodily injury only involved the motorcycle.
That means that motorcyclists must be aware of their own safety, as well as that of other drivers, although, admittedly, many car drivers see motorcyclists as a nuisance (if they see them at all).
The distractions built into today's cars, such as infotainment systems and technological control panels, in addition to texting, are enough of a distraction to cause many drivers to simply miss seeing a motorcyclist.
You are Responsible for Taking Safety Precautions
A motorcyclist's damages may be reduced in a lawsuit if he/she comparatively negligent, e.g. if a motorcyclist did not wear protective gloves, or a helmet, or took a curve too fast, or left too little space between the motorcycle and a car in front, a jury can apportion some of the fault for the accident to motorcyclist, even if a car in the accident also acted negligently.
Contact the Celeste Law Firm in West Palm Beach today for a free consultation to discuss obtaining damages for injuries you may have suffered in a car or motorcycle accident.
Resources:
tampabay.com/news/publicsafety/accidents/advocates-for-motorcycle-helmet-laws-say-rising-florida-deaths-prove-need/2175820
articles.sun-sentinel.com/2013-03-09/news/fl-finding-fault-in-motorcycle-crashes-20130309_1_motorcycle-crashes-chanyoung-lee-motorcycle-riders
ridesmartflorida.com/index.php/rider-responsibility/personal-protective-gear/