Injured by a Drunk Driver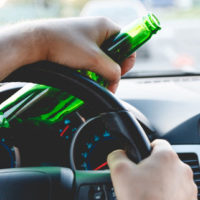 Drunk drivers may only cause a small portion of total auto collisions, but they are responsible for roughly one third of all traffic fatalities. Recently, a 29-year-old drunk driver killed a 19-year-old Coral Springs resident while traveling over 100 miles per hour. Four of the teen's friends, who were passengers, were injured. The drunk driver's blood alcohol content was almost twice the legal limit of 0.08 percent, according to the Sun Sentinel. While the man was charged with inflicting serious bodily injury and reckless driving, the victim's family will likely never recover emotionally. Victims of drunk driving collisions or their family members may file personal injury lawsuits in order to recover compensation. In addition, they may also seek punitive damages due to the presumption that the illegal blood alcohol content caused the accident and the perpetrator should be punished for engaging in this risky behavior.
Drunk Drivers Are Killing More Floridians Each Year
Drunk driving deaths declined for decades with the advent of groups like Mothers Against Drunk Driving (MADD) more strict law enforcement, and more severe laws. However, that downward trend has been reversing in recent years. In fact, there were over 31,000 DUI arrests in 2014 in Florida, according to Mothers Against Drunk Driving. Nearly 800 people died as a result of DUI drivers in 2014, representing a 14.8 percent increase from the year before. Yet in 2015, that number grew to over 1,000, according to the Insurance Institute for Highway Safety. While the yearly totals are still being tallied at this point, some estimates, as reported by CBS News, for 2016 show that it was another horrendous year. According to a spokesman for the National Highway Traffic Safety Administration, the administration is still trying to figure out why these fatalities are increasing at the rate they have been in recent years. He said, "We're seeing these increases that we have not seen in 50 years. It's tragic."
Injuries Caused by Drunk Drivers
Many serious DUI traffic collisions result in significant injuries for the victims of drunk drivers. Depending on the severity of the injuries and level of future impairment or disfigurement from which a victim suffers, the potential medical costs range from thousands to hundreds of thousands or even millions of dollars if life-long care is required. Some of the more significant injuries that victims of DUI drivers suffer include:
Traumatic brain injury (TBI) resulting in loss of brain function or vegetative state;
Severed spinal cord injury resulting in partial or total paralysis;
Loss of limb or limbs; and
Permanent disfigurement or scarring.
More typical injuries include:
Broken limbs or ribs;
Severed or torn tendons or cartilage;
Spinal injuries;
Traumatic brain injuries (TBI);
Lacerations and contusions; and
Muscle strains/sprains.
If You Suffered an Injury from a West Palm Beach Drunk Driver, You Have a Right to Seek Financial Compensation
Whether you or a family member was injured by a drunk driver, you should explore filing a personal injury or wrongful death lawsuit against the negligent party. Do not hesitate to call an experienced West Palm Beach personal injury attorney with the Celeste Law Firm today at 561-478-2447.
Resources:
sun-sentinel.com/local/broward/fl-sb-sawgrass-fatality-dui-arrest-20170216-story.html
madd.org/drunk-driving/state-stats/Florida.html?referrer=https://www.google.com/
iihs.org/iihs/topics/t/general-statistics/fatalityfacts/state-by-state-overview
cbsnews.com/news/2016-may-go-down-as-one-of-the-worst-years-for-drunk-driving-deaths/