How do Drug and Alcohol Addiction Affect a Social Security Disability Claim?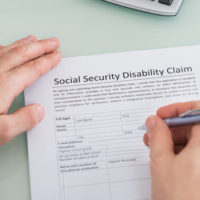 For many people suffering from chronic conditions or enduring pain as a result of an injury or an illness, there may be indications in medical records of drug or alcohol abuse. If you have abused either one, you should tell your treating doctors—honesty is the best policy and your doctors need to know if you have a history of substance abuse.
But how does substance abuse affect a claim for Social Security disability? How will a judge view your claim if your records show you have a history of abusing drugs or alcohol?
Substance Abuse and Disability
Although addiction is a clinical, recognized illness/disease, you cannot get disability for substance abuse alone. It is not considered an illness that qualifies you from disability. The bigger question is whether it can disqualify you.
To even be an issue in your disability case, the substance abuse must be a repetitive pattern. Occasional usage won't disqualify you from benefits, nor will an arrest for DUI. There must be objective medical evidence of addiction. Additionally, you cannot be considered "addicted" to prescription medication.
Did Abuse Cause Your Conditions?
You may not be awarded benefits if your addiction is the cause of your symptoms or illnesses. A Social Security judge (ALJ) must consider whether you would have suffered disabling conditions even in the absence of the alcohol addiction.
For example, take a client who is paraplegic and also a heroin addict. His disability is obviously being paraplegic. The heroin addiction did not cause paraplegia nor his disability.
A closer case is someone who is a lifetime alcoholic, and is making a claim for cirrhosis of the liver, a disabling and potentially deadly illness. Under those circumstances, it may be argued that, in the absence of other causes, the cirrhosis was caused by alcohol intake. Obesity and viruses also cause cirrhosis, though.
A Social Security ALJ must, ultimately, determine whether you can work in any job in the national economy if you were not addicted to drugs and alcohol.
A good Social Security attorney must be prepared to argue these issues in Court. Be honest with your attorneys from the intake through the course of your case about any history of alcohol or drug abuse.
Do you have questions about getting Social Security disability benefits?. Call the Celeste Law Firm in West Palm Beach today for a free consultation to discuss your disability case.
Resources:
ssa.gov/OP_Home/rulings/di/01/SSR2013-02-di-01.html
ssa.gov/OP_Home/cfr20/404/404-1566.htm