Duty Disability From Florida's Retirement System (FRS)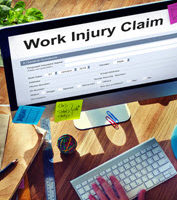 When can a Union Worker Can Receive Duty Disability Under Florida's Retirement System?
The Florida Retirement System (FRS) provides disability coverage to those enrolled in the FRS pension plan or investment plan when they are incapable of performing the essential duties of their employment as a result of an injury or illness that happened when the claimant was employed in an FRS-covered job. Typically, at least two doctors, who are familiar with the claimant's condition(s), must attest to disability. The cause of the injury cannot be from any of the following:
During willful participation in a riot or, civil insurrection;
While committing a felony or any act of violence;
Intentional or self-inflicted injuries; or
An injury or illness that happened after their FRS employment ended.
What if I Can Perform Sedentary Work?
Under Florida's workers' compensation statute 440.15, if an employee is capable of performing sedentary work, he/she will not qualify for permanent total disability. However, one may be duty disabled even if not permanently disabled as defined under F.S. 440.15. However, if the employee can prove that he/she cannot engage in sedentary employment within a 50 mile radius of their home, he/she will be eligible. Certain medical conditions put the burden of proof on the employer, as opposed to the employee. The following injuries are presumed to cause an employee incapable of sedentary work:
Spinal cord injury causing paralysis the trunk or an arm or leg;
Amputation of the arm, leg, hand, or foot;
Severe traumatic brain injury (TB) that causes severe sensory and/or motor disturbances, communication disturbances, complex integrated disturbances of cerebral function; episodic neurological disorders, or other conditions at least as severe as the previously mentioned;
At least 25 percent of the body surface is burned due to second or third degree burns, or five or at least five percent of the face or hands are burned; or
Total or industrial blindness.
Regular Disability Vs. In-Line Disability
Regular disability is defined as disability caused by an injury or illness of natural cause or an accident not caused during the claimant's covered employment. In order to qualify for regular disability, at least one of the following criteria must be met:
At least eight years of creditable service;
At least 10 years of creditable service if employment ended before July 1, 2001;
For FRS memberships before July 1, 1980 and less than five years of creditable service on that date, the member must have at least 5 years of creditable service and cannot be fully insured under the Federal Social Security Act.
If the injury or illness was caused on the job, special disability provisions apply, which are called in-line-of-duty disability benefits. Some injuries and illnesses are presumed to be caused in the line of duty depending on the claimant's line of work. Typically, in-line duty disability pays more than regular retirement and is not age determinate.
Contact a West Palm Beach Duty Disability Attorney Today
Qualifying for duty disability under the FRS can be a challenge. For instance, your employer may argue that you are capable of performing at least sedentary work, when in fact your back injury prevents you from being able to sit down for long periods of time. Sedentary work can be excruciating and essentially impossible for seriously injured or disabled employees, even if that work is substantially less physically demanding than their initial union job. For legal help, call a West Palm Beach attorney with the law offices of the Celeste Law Firm today.
Resource:
dms.myflorida.com/content/download/18512/98556