Does a Criminal Record or Incarceration Affect Eligibility to Recover Social Security Disability Benefits?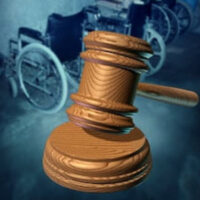 When we think of who is eligible for Social Security Disability Benefits, we consider work quarters, on a set date and date last insured as important bench marks. Commonly asked questions are earnings report history and the nature and extent of the injuries, medical conditions and disability. Does a criminal record affect an otherwise disabled person's eligibility to recover SSDI benefits?
Will a Criminal Record Disqualify You from Benefits?
As a general rule, having a criminal record will not disqualify you from recovering disability benefits. There is no moral character requirement in Social Security Disability law. However, if you have a conviction for things like treason, sabotage, or any crime that involves activities against the country, then Social Security can exclude the wages that you received at the time you were convicted, from the calculation of your prior earnings. This could disqualify you from obtaining benefits.
You are also prohibited completely from getting any benefits during any time that you were committing any crime related to evading arrest, or trying to avoid prosecution.
If you are on parole, you may still receive disability benefits. However, you would be disqualified from benefits should you violate the terms of your parole (or probation).
Benefits While in Jail
Additionally, if you were in jail for 30 days or more, and are asking for retroactive payments, you will not be paid for any month that you were in jail.  It doesn't matter why you were in jail. Because prison was paying for your housing and food and other needs of life, getting disability for this period of time would be "double dipping."
If you are incarcerated after your disability is awarded, your disability payments will stop. Once you are released, so long as your benefits were not stopped for more than a year, they will be automatically reinstated.
In the category of "things that should be obvious," you cannot get benefits for any injury or disability that you incurred while you were committing or attempting to commit a crime. As long as the condition arose at about the same time you were committing a crime, Social Security will assume that the disability occurred while the crime was being committed.
However, if you suffer an injury or a disease or condition that renders you disabled while you are in prison, you can apply for benefits. However, even if you qualify, you will not actually receive your benefits until you are released. Once released, you would have to re-apply, but that process would be shorter than the original application process.
We can help you avoid problems with your disability application. Get help from the moment you start your application for disability benefits. Contact the West Palm Beach Social Security disability lawyers at the Celeste Law Firm today for answers to your questions about your case.
Resources:
ssa.gov/pubs/EN-05-10133.pdf
ssa.gov/reentry/benefits.htm