Deadly Construction Falls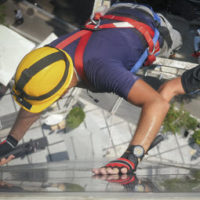 Amidst the Occupational Safety and Health Administration's (OSHA's) initiative "National Safety Stand-Down to Prevent Falls in Construction," one Jacksonville worker was killed and another critically injured in a workplace construction fall, as reported by Jacksonville.com. The two men were standing on top of a wooden crate, which was itself set on top of a hydraulic lift, to reach up to where they needed to work. While loading doors through the third-story window of the in-progress apartment complex, the crate, which was not secured in any way, slipped and tipped over, taking the two men with it. OSHA personnel are currently investigating the accident and it is unknown whether the two workers were using safety harnesses or not. What is known is that the accident should not have happened. According to the assistant area director of OSHA, "This young man didn't deserve what happened today. We need to do better." While it is unclear whether the two men were not given the necessary safety and hydraulic platform equipment required to do their jobs, if they were not given the proper training, or if they were simply disobeying the contractor's policies, the deceased man's family will be eligible for workers' compensation death benefits, and the other victim will most likely be eligible for permanent total or permanent partial disability, given the horrendous nature of his life-threatening injuries.
Forty Percent of Fatal Construction Workplace Falls are Entirely Preventable
Florida has the unwanted rank of number two in the nation for workplace fatality accidents. Falls are the leading cause of construction worker fatalities, and four in 10 are preventable falls, according to OSHA. The Administration oversees investigations into workplace accidents such as the one described above, helping to enforce and create strict workplace safety standards throughout the country and for all types of occupations. Recently, OSHA cited four Florida contractors negligent for a construction worker's fatal fall through an unprotected stairway opening. The worker was performing "punch-list activities" when he fell 11 feet to his death. The stairway opening did not have any guard rails, which are required by law, and it was found that the employer knew about the condition of the stairway. As such, OSHA has fined four separate contractors over $91,000 in penalties.
Contact a Lawyer Today
While in the later scenario described above it was found that the employer was at fault for the employee's death, finding fault is not an issue when it comes to awarding workers' compensation benefits. No matter whose fault a workplace fall or other type of accident is, the employee's exclusive remedy is workers' compensation. These benefits, which pay for medical costs and partial wage replacement, or death benefits are sometimes denied by the workers' compensation carrier; and you cannot sue your employer directly except in certain circumstances. Because of this, it is in every injured employee's best interest to speak with an experienced West Palm Beach workers' compensation attorney immediately after the injury, or as soon as possible. Call the Celeste Law Firm today at 561-478-2447.
Resources:
jacksonville.com/news/public-safety/2017-05-11/jacksonville-police-1-dead-1-hospitalized-after-industrial-fall
osha.gov/pls/oshaweb/owadisp.show_document?p_table=NEWS_RELEASES&p_id=33579