Broken Bones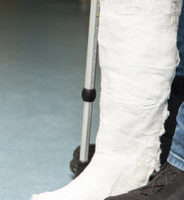 Broken bones, or fractures, are quite common during severe workplace accidents and injuries caused by negligent drivers or property owners. Unfortunately, depending on your specific type of fracture, the recovery period could be lengthy and the economic cost exceedingly great. 
Simple Fracture
A simple fracture or closed fracture is one that does not penetrate the skin and remains closed, according to Inner Body. The least complicated type of closed fracture to fix or recover from is a stable fracture. When a bone suffers a stable fracture, the two ends line up and do not require surgery to put them back together.
Compound Fracture
A compound fracture, one of the more serious types of fractures, causes the bone to press outwards, penetrating the skin. Compound fractures generally require surgery, pins, titanium plates, and extreme caution regarding infection.
Comminuted Fracture
When the same bone suffers multiple fractures, causing it to be broken into small pieces, it is referred to as a comminuted fracture.
Avulsion Fracture
An avulsion fracture occurs when one or more small pieces of bone are ripped off the larger section of bone by a ligament or tendon.
Buckled Fracture
A buckled fracture, also called an impact fracture, according to WebMD, occurs when the ends of the bone are driven in towards each other, caused by, for example, falling or hopping off a loading dock and landing heavily on one's feet.
Greenstick Fracture (in Children) 
When a strong force is applied perpendicularly to the bone's long axis, only one side of the bone may break, which is called a greenstick fracture. However, greenstick fractures are only seen in children due to the elasticity of their still-growing bones. 
The Direction of Force Causes Different Types of Fractures 
Not all broken bones are caused by the same direction of force. For example, if you were in a car crash, you may suffer a kneecap fracture caused by the car's crumple zone coming in towards you. You may suffer a completely different type of knee fracture if you fell down a flight of stairs or lifting a heavy load. 
Transverse fractures are caused by right angle force applied perpendicularly to the long axis of the bone;
Oblique fractures are caused by a force that is any angle other than a right angle to the long axis of the bone; and
Spiral fractures are caused by severe twisting of the bone.
Call for Legal Help Today
Whether you have suffered an occupational injury or have been involved in a car wreck, slip and fall, or other personal injury, it is important to reach out for legal help. By working with an experienced West Palm Beach personal injury attorney or workers' compensation lawyer at the Celeste Law Firm, you greatly increase your chances of receiving fair compensation or medical benefits and wage replacement. Call us today at 561-478-2447.
Resource:
innerbody.com/image/skel06.html