Make Sure You Have Homeowners' Insurance Coverage for Sewage Damage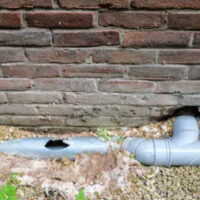 Raw sewage: It isn't a pleasant topic to think about or discuss. It's particularly disgusting when speaking about it in places it's not supposed to be, like on the floors or carpets of your home. But before you think this is a highly unlikely occurrence, a recent incident in Ft. Lauderdale may change your mind.
Fort Lauderdale Sewage Backup
In December 2019, over 120 million gallons of sewage spilled into the streets of Fort Lauderdale. By one estimate, that was enough human waste to fill 192 full sized pools. Thankfully, much of it was pumped into a nearby river, in an attempt to keep it out of people's homes, but there is no doubt that somewhere, some people's properties were damaged or affected.
Sewage Exclusions
Believe it or not, if your home is damaged by sewage, you may have a problem getting your insurance company to pay because of what is known as a water backup exclusion, common in many kinds of policies. Many policies contain this exclusion when it comes to damage done by sewage, although it's often not as simple as that.
Exclusions often depend on where the backup that caused the sewage to spill occurred. Remember that pipes and lines that carry sewage are interconnected. The problem causing the backup can be on your property, but can also be miles away from your property. The difference can be the difference between the loss being covered or excluded.
Coverage and The Location of the Backup
As a general rule, if the problem is located off of your property, where you have no control over it, the exclusion will apply (meaning there is no coverage). Insurance companies simply do not want to be responsible for something that emanates away from your property, and from a source that the insurance company has no history on, and which the insurance company cannot inspect.
If the problem (that is, the backup or leak from the sewage lines) occurred on your property, the exclusion will not apply and there will be coverage. Similarly, if you have a self contained sewage system, the exclusion will almost never apply.
This creates problems for homeowners, because you can't inspect or repair lines that aren't on your property. In many cases, your property may not be covered for a risk that you have no ability to mitigate or avoid.
Another problem is that you may not have sewer coverage at all, unless you add it because it often is not a standard inclusion on most policies. Sometimes, it is offered as an additional coverage option, at an additional cost. However, the cost is usually low—under $100 extra per year.
Make sure that your homeowners' insurance company pays what its supposed to, and repairs your property after it is damaged. Contact the West Palm Beach homeowners' insurance attorneys at the Celeste Law Firm today for help.
Resource:
sun-sentinel.com/local/broward/fort-lauderdale/fl-ne-sewage-spilled-fort-lauderdale-20200106-xr3qkewzlvadnipnxyiogpukhi-story.html
https://celestelawfirm.com/insurance-company-tries-to-punish-homeowner-for-acts-of-a-third-party/