Scooter Accidents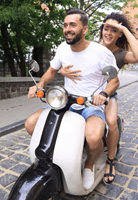 Mopeds and scooters are both less expensive and more convenient modes of transportation than traditional four-wheeled automobiles. Even tourists gravitate towards renting them, whether by the hour or the day, for easy travel around town. West Palm Beach is a great place to ride a scooter, too, considering our fantastic weather. There are easy-to-see benefits of owning or renting a small two-wheeled vehicle: the gas mileage is great, they fit in smaller spaces, and you get open air and more than a little exhilaration. Sometimes, however, the exhilaration surpasses the point of enjoyment and turns into frantic panic and even pain. Most scooter operators, just like motorcyclists, have had their fair share of close call incidents with cars and trucks. And, unfortunately, for some these close calls are not near misses at all and they turn into hospital visits. If you were injured in a West Palm Beach scooter or moped accident, the responsible party needs to be held accountable. A personal injury attorney will help you receive the financial compensation that you are certainly entitled to.
Drivers Pay a Ticket, Scooter Riders Pay with Their Lives and Disabling Injuries
Just recently, a Florida woman, only 17 years old, was hit by a negligent driver who was not operating his car with a valid license, as reported by News Channel 7. The woman was pinned under the driver's car after he collided with her. He was taken to jail for driving without a valid license and she, the victim, was rushed to the hospital with life threatening injuries. Stories like this one are all too common in south Florida and West Palm Beach. While a driver is subjected to a ticket, and sometimes a night or two in jail if they were operating a vehicle under the influence of alcohol, the scooter rider suffers serious and life-long consequences. The injuries sustained by scooter riders are similar to those sustained by motorcyclists, bicyclists, and pedestrians due to the fact that they have no protection other than the clothes on their back and possibly a thin helmet. Common injuries that our clients have suffered include the following:
Traumatic brain injury;
Fractured limbs;
Spinal cord or spinal column damage;
Nerve damage;
Separated shoulder;
Broken collarbone'
Road rash;
Severe bruising;
Internal organ injuries and internal bleeding;
Post-traumatic stress disorder (PTSD); and
Anxiety and other psychological injuries
Protect Your Financial Health 
Because scooter and moped injuries are so severe, medical expenses are extraordinary these days, and the fact that you may or may not be able to get back to work soon or at all, you should contact an attorney. An experienced personal injury attorney will ensure that you are compensated for your medical bills, pain and suffering, lost wages, and much more.
Contact the West Palm Beach Law Offices of Celeste Law Firm
According to a recent study that analyzed over 5,000 scooter crashes in a seven year period, "Florida's traffic infrastructure does not accommodate the safety of moped and scooter drivers." Drivers and city designers may not give a scooter driver the attention they deserve out on the roads, but we will make your voice heard. Do not hesitate to contact one of our experienced and compassionate personal injury scooter accident attorneys with the West Palm Beach law offices of the Celeste Law Firm today at 561-478-2447 for immediate legal assistance.
Resources:
wjhg.com/content/news/Teenager-rushed-to-hospital-after-crash-on-Back-Beach-Road-433970633.html
ncbi.nlm.nih.gov/pmc/articles/PMC4010945/